At St Joseph's we fully immerse each pupil in their writing unit using a 'Wow' moment or experience, which will spark their initial creativity and imagination when writing, this complements the writing scheme we follow. The Write Stuff, created by Jane Considine, is a clear and systemic approach to the teaching of writing, providing a step-by-step framework to convert struggling writers into successful writers. The Write Stuff is based on two guiding principles; teaching sequences that slide between experience days and sentence stacking lessons. With modelling at the heart of them, the sentence stacking lessons are broken into bite-sized chunks and taught under the structural framework of The Writing Rainbow. Teachers prepare children for writing by modelling the ideas, grammar or techniques of writing. The high quality modelling enables the children to succeed when they come to do their own independent writing and they love to see their own work regularly celebrated on the wall in the Sentence Stacking. 'The Write Stuff' has produced some really incredible writing that the children are proud of.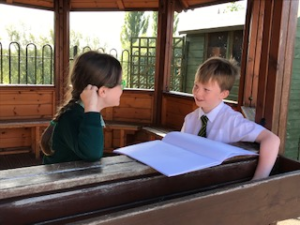 Below are links to some fantastic resources that can be
used to help with writing homework and revision, as well as just for fun!   If you find any other brilliant sites that are not on the list, please let us know so we can share them on here for the whole school to use!

Writing Websites:
Crickweb KS1 – http://www.crickweb.co.uk/ks1literacy.html
Crickweb KS2 – http://www.crickweb.co.uk/ks2literacy.html
Topmarks – https://www.topmarks.co.uk/Search.aspx?q=Writing
BBC Bitesize English – https://www.bbc.co.uk/bitesize/subjects/zv48q6f
BBC – SPaG – https://www.bbc.co.uk/bitesize/topics/zhrrd2p
BBC – Creative Writing, Language and Comprehension https://www.bbc.co.uk/bitesize/topics/zprrd2p
BBC Teach – Videos and animated series covering a range of areas in English, including Shakespeare and interactive lessons – https://www.bbc.co.uk/teach/ks2-english/zbrwnrd
Royal Shakespeare Company Education Zone – https://www.rsc.org.uk/education
The Literacy Shed – https://www.literacyshed.com/home.html
DK Find Out! – https://www.dkfindout.com/uk/english/
Ted Ed – https://ed.ted.com