At St Joseph's, we believe writing should be fun, not just part of a daily routine. As such we aim to fully immerse each pupil in their topic using a half-termly 'Wow' moment or experience, which will spark their initial creativity and imagination when writing. We want pupils to utilise relevant grammar, punctuation and spelling skills, taught at the appropriate times, to fully complement a genre that they may be covering.
All pupils will be provided with high quality examples, such as modelled writing or extracts from successful authors, giving them a solid foundation on which to build their own ideas. Editing skills will play a key part in each child's writing journey throughout the school, encouraging them to build an eye for detail, show clear focus and a be able to critique and improve their own work, whilst helping them to show pride in their final piece.
All children will be given the platform to display their writing talents, as well as being provided with the necessary resources and support to be able to progress in to someone who can articulate their thoughts and feelings using the written word. It is our hope that by providing a wide range of writing opportunities, that every pupil will find something that excites, interests and engages them, which in turn will lead to them showcasing their finest abilities as a writer.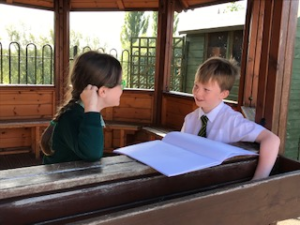 Below are links to some fantastic resources that can be
used to help with writing homework and revision, as well as just for fun!   If you find any other brilliant sites that are not on the list, please let me know so I can share them on here for the whole school to use!    Mr Dawson
Writing Websites:
Crickweb KS1 – http://www.crickweb.co.uk/ks1literacy.html
Crickweb KS2 – http://www.crickweb.co.uk/ks2literacy.html
Topmarks – https://www.topmarks.co.uk/Search.aspx?q=Writing
BBC Bitesize English – https://www.bbc.co.uk/bitesize/subjects/zv48q6f
BBC – SPaG – https://www.bbc.co.uk/bitesize/topics/zhrrd2p
BBC – Creative Writing, Language and Comprehension https://www.bbc.co.uk/bitesize/topics/zprrd2p
BBC Teach – Videos and animated series covering a range of areas in English, including Shakespeare and interactive lessons – https://www.bbc.co.uk/teach/ks2-english/zbrwnrd
Royal Shakespeare Company Education Zone – https://www.rsc.org.uk/education
The Literacy Shed – https://www.literacyshed.com/home.html
DK Find Out! – https://www.dkfindout.com/uk/english/
Ted Ed – https://ed.ted.com