Malmesbury Tennis Festival – 1st October 2020 It was absolutely fantastic to get our first run out at a festival this year, with the rules of tennis meaning we could all play safely under current restrictions. The sun was shining and the children were delighted to get the chance to pit their skills against other schools from our local cluster.
The most difficult part was picking just 8 players from the near 30 children we had put their names forward. Hopefully, there will be more opportunities further down the line.
As has become expected of St Joseph's at festivals, our team performed magnificently and showed wonderful togetherness and team spirit, supporting each other whether winning or losing. Fantastic sportsmanship was on show with plenty of congratulations shared between schools, regardless of the results.
Each of our 8 players took part in 7 matches each, scoring a point for each victory. After a magnificent 7 – 1 win in our first set of games, the team was on the receiving end of the same score line in the second. However, after that setback, there was no stopping them as they stormed to 2nd place overall, which is a wonderful result considering none of our team currently play tennis at clubs outside of school.
It really was a lovely event to be a part of and our team were exemplary throughout. A special mention also to Mrs Bond and Mrs Young for their support with transporting and cheering on the team throughout.
A magnificent start to the sporting year!
Thanks   Mr Dawson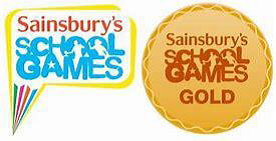 St Joseph's Catholic Primary School – Sport and PE 2019/20
1st June 2020    ***St Joseph's retains 'Gold' sport school award and how to enter the 'Virtual School Games' starting today!***
Some great news as we have officially retained our Youth Sport Trust 'Gold' School Games Mark Award!   This is a fantastic reflection of all the sporting endeavours our children put themselves forward for.    Well done everyone!     As a school, we have a particularly high amount of willing competitors at every tournament or festival, which is key in maintaining our 'Gold' status!
Therefore, I would love to see our school competing in the 'Virtual School Games' starting today!
Please follow the link on the Wiltshire and Swindon Sport (WASP) website to see how you can get involved, even if you are at home!     You just need to choose an event, make a video and send it in to enter the weekly competitions!
https://www.wiltssport.org.uk/virtual-school-games
Please take a look as I know the children will be keen!     Let's flood them with entries and see if we can get some green and yellow on the podium!      Have fun and enjoy!    Mr Dawson
A lot of the sport and PE resources can sometimes be tricky for the younger pupils to stick with but Andy's Wild Workouts from the BBC are fun, informative and about 6 minutes each! Why not try asking the younger children to try a Wild Workout anda wake and shake each morning to get their bodies and minds active for the day ahead? Let's get all our KS1 pupils moving! Enjoy!   https://www.bbc.co.uk/iplayer/episodes/p06tmmvz/andys-wild-workouts  
There are a lot more ideas for all sorts of PE/Games/Exercises for all ages, please click on the link below:-
Sport & PE 2019-2020