Welcome to St Joseph's Catholic Primary School
Walking in the footsteps of Jesus, loving and serving together.
A warm welcome to St Joseph's Catholic Primary School.
St Joseph's welcomes children of all faiths and none to our small school. Our pupils come first and they are at the centre of our happy, thriving school which offers a village school atmosphere in a bustling town. Our hard working and dedicated staff are committed to providing the best possible education while making the school a vibrant, fun and interactive place to learn. Our aim is to ensure that each child reaches their full academic and spiritual potential.
We would love the opportunity to show you around and we would encourage you to come and visit so that we can show just how we are achieving this. If you would like to book an appointment for a guided tour please call 01666 822331.
We look forward to showing you around!
Mrs Sue Woods, Head Teacher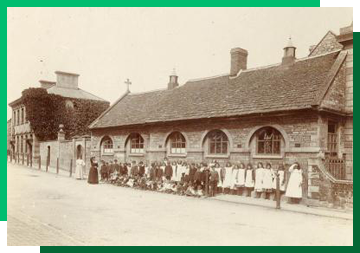 Our History
This was first established in two rooms in Cross Hayes House in 1868 and the first school, pictured here, was built in the Cross Hayes in 1869. By 1876 the school was housed in the earlier Catholic church and by 1884 it was being run by the Sisters of St. Joseph of Annecy as St. Joseph's School. Between 1890 and 1920 the school averaged 60 to 70 pupils, with a new school being built in Holloway in 1932-3 and by 1935 pupil numbers had risen to 90. In 1988 the school had 98 children from Malmesbury, Brinkworth, Hullavington, Crudwell and Sherston and this number increased to 111 in 2000 and is currently around 129.