Welcome to St Joseph's Catholic Primary School

A warm welcome to St Joseph's Catholic Primary School.
As a school we aim to "Walk in the footsteps of Jesus" and serve each other through the things we say and do. This means we welcome all children of all and no faiths. As a Catholic primary school our foundation is also solidly grounded in the Christian faith and the Catholic tradition.
Our ethos is that our children come first and are at the centre of our happy, thriving school which offers a village school atmosphere in the bustling market town of Malmesbury.
Our hard working and dedicated staff are committed to providing the best possible education through a vibrant fun and interactive curriculum. Our aim is to ensure that each child is challenged and aspires to reach their very best.
Finally, as a school rooted in the Christian faith we also believe in acting on our convictions to be stewards of God's creation. As part of this we are very proud to have been one of the only schools in Britain that have been successful in receiving a Salix grant to ensure that we are moving towards a carbon neutral status with respect to how we use and consume energy.
The school currently has two interim head teachers who are covering the absence of the substantive head teacher. As a job share partnership we would welcome the opportunity to show current and prospective families around our school. If you would like to book an appointment to do this, please call 01666 822331.
About us:
Karen Bathe:
I am currently a Co-head teacher at Holy Family Catholic Primary School in Swindon.
I am a practising Catholic, an adoptive parent of two children and have 12 years' experience as a head teacher. I am also the Chair of Samuel Partnership (St Joseph's Catholic Partnership) and have experience of working in school improvement as a Maths consultant.
Paul Bacon:
I have had four head teacher positions in a variety of schools in international, rural & urban schools. I have also taught and worked overseas, in Wiltshire and in inner city schools. Prior to joining St Joseph's I also worked in a co-headship in another Catholic school in Wiltshire.
I am however not a Catholic but am committed to church school and Catholic education. I have a mature family with children who have passed through both primary and secondary education. I have a passion for developing a broad, balanced and hands on curriculum.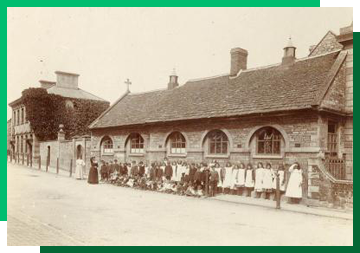 Our History
This was first established in two rooms in Cross Hayes House in 1868 and the first school, pictured here, was built in the Cross Hayes in 1869. By 1876 the school was housed in the earlier Catholic church and by 1884 it was being run by the Sisters of St. Joseph of Annecy as St. Joseph's School. Between 1890 and 1920 the school averaged 60 to 70 pupils, with a new school being built in Holloway in 1932-3 and by 1935 pupil numbers had risen to 90. In 1988 the school had 98 children from Malmesbury, Brinkworth, Hullavington, Crudwell and Sherston and today the school has a capacity of 150 children where staff know every child individually.