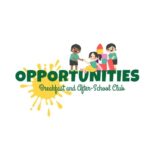 We are delighted to announce the launch of our Opportunities Club providing breakfast and after school wrap around care, as well as a three week Holiday Club. The club will run in the usual format to Tykes with many of the familiar, friendly faces – Molly, Daniel, Louisa, Julie and Scott. They will be here to welcome children for 3 weeks during the school holidays from 25th July to 12th August.
Please read the Terms and Conditions, a link to which can be found underneath the poster below, along with links to the booking forms – there is one for the holiday club and another for September. Places are limited so please complete the relevant booking form and return to the school office, either in hard copy or by email to admin@st-josephs-malmesbury.wilts.sch.uk
If your child does not attend St Josephs please also complete the Non St Jos Personal Data and Consent Form, the link to which can also be found below the poster.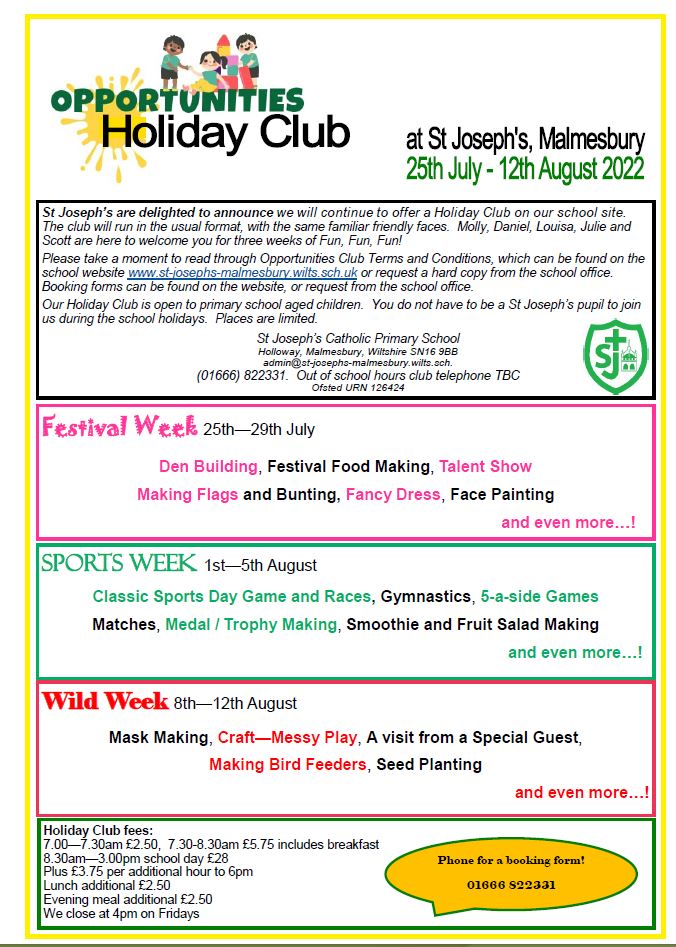 Opportunities_Holiday Booking July-Aug 2022 FINAL
Opportunities_Holiday NON ST JOS Consents
Terms and Conditions Breakfast and Opportunites 2022
Opportunities_booking_form_Sept 2022
Opportunities_booking_form_Oct 2022
Opportunities_booking_form_NOVEMBER 2022
Opportunities_booking_form_DECEMBER 2022
Opportunities_booking_form_January 2023
Opportunities_booking_form_FEBRUARY 2023
Opportunities_booking_form_MARCH 2023
St Joseph's Extra Curricular After School Clubs
St Joseph's offer extra curricular after school clubs throughout the week in term time. Please find below a list of clubs for Terms 5 and 6. To book a place for your child please use the links below.
Permission Link for EYFS and KS1 Children
https://forms.office.com/Pages/ResponsePage.aspx?id=qUd63v_Cn06ylzHuqyF9adaeChs51OZMhec7RAKrDPRUQUdYMlVIMk9TSzA5NDVXOFM5SzBFSjBIUi4u
Permission Link for KS2 Children
https://forms.office.com/Pages/ResponsePage.aspx?id=qUd63v_Cn06ylzHuqyF9adaeChs51OZMhec7RAKrDPRUNkVKTUhQTEdVV0RZMkNIREtPTEc0NVVNUi4u